Discover more from Euphoric Recall
Absolutely top-hole bathroom reading.
Over 1,000 subscribers
The Fedsurrection Hoax
Recent revelations and the FBI's long history of using informants to engineer domestic terrorism plots suggests events on Jan. 6 may have been orchestrated, or at the very least, allowed to happen.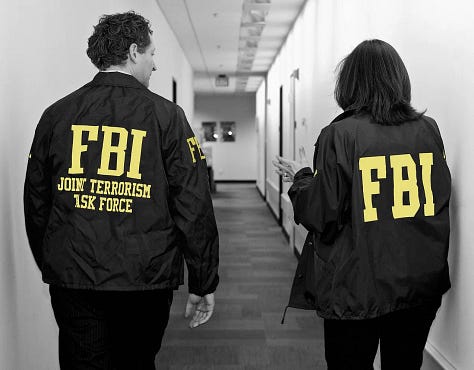 Euphoric Recall is a reader-supported publication. To receive new posts and support my work, consider becoming a free or paid subscriber.
---
I like to read longform articles. Length isn't the point, it's the story, and usually it takes a long article to flesh out a good story. Longform.com is basically a treasure trove, with articles categorized by subject and publication. I've read tons of them over the years, and during all that reading I came upon an alarming number of pieces that focused on a common theme: The FBI's unethical use of informants to engineer plots and conspiracies and entrap hapless individuals. Below are three examples:
Here's another one. And another. And another. And another. And another. And another.
You get the point. I've read them all, and I do not say this lightly: The FBI is extraordinarily corrupt. The extent of that corruption has been on full display in recent years, featuring prominently in the Russiagate hoax used to undermine the Trump administration and the systematic targeting of Trump supporters under the guise of combating "domestic terrorism."1
As more and more information has come to light, it's become increasingly clear that the FBI had a hand in the events of January 6—something the agency has long denied despite evidence to the contrary.
To say that there's ample reason to treat the FBI's narrative of what happened that day with a certain cautious skepticism would be an understatement. Unbeknownst to the wider public, the Federal Bureau of Investigation has always been an intensely political organization that often undermines the values it claims to stand for, one with a long track record of using undercover informants and agents as provocateurs, pushing people into planning "domestic terrorism" schemes that otherwise never would have happened by cultivating relationships, stoking anger, and offering incentives as encouragement. Indeed, it's difficult to overstate how common this is, and how unethical the FBI's tactics are. As one former informant later said: "The way the FBI conducts their operations, it is all about entrapment . . . There is no real hunt. It's fixed."
The FBI identifies "targets" who tend to be angry, isolated, and poor (people who're easily manipulated), engineers a plot, and then uses paid informants and undercover agents to radicalize these targets even further, prodding them into criminal conspiracies until they cross the line delineating aspirational from operational, at which point the agency springs from the shadows and conducts a climactic, highly publicized arrest, claiming to have thwarted another "domestic terrorism" threat.
9/11 Was A Turning Point
In the years following September 11, 2001, the threat of another terrorist attack seemed very real, and sweeping legislation and policy changes cleared the way for federal agencies to surveil whole communities, monitoring even those that had no connection to terrorism. Prosecutors were able to build cases from invasive intelligence-gathering tactics that would have previously been unthinkable. The U.S. attorney general gave the FBI the green light to deploy informants from the earliest stages of terrorism investigations, contravening the established practice of waiting until there was reasonable indication of criminal activity. The Justice Department further relaxed restrictions in later years, permitting such use of informants even when merely assessing a potential case.
The FBI's rationale in employing informants to orchestrate terrorism stings goes something like this: By catching a "lone wolf" radical, federal law enforcement can take him off the streets before he meets a real terrorist who can provide him with resources like money, weapons, and munitions. Which sounds great, until you discover that if it weren't for the FBI, the "lone wolf" never would have crossed over the Rubicon, so to speak. It's basically like if the DEA were to warn the public about the scourge of drug addiction while simultaneously employing undercover drug dealers to deliberately create addicts, and then the DEA arrested the addicts with great fanfare so as to justify their own warnings and budget requests.
To this day, no example exists of a lone wolf, by himself unable to launch an attack, becoming operational by meeting an actual terrorist in the United States. And while many of the Bureau's targets have a history of angry anti-government rhetoric, a disturbing majority never take any steps toward terrorist acts until they receive encouragement and resources from undercover informants. Indeed, there's often a shocking lack of evidence based on the individual's predisposition in these cases.
As David Shipler of the New York Times wrote in 2012, more often than not, War on Terror stings targeted suspects for pure speech. In trials, the government would present evidence gathered by paid civilian informants who latched onto low-income, vulnerable, and mentally challenged individuals2— people with no capacity to do any significant harm if left to their own devices. While working with the Investigative Reporting Program at the University of California-Berkeley, the Intercept's Trevor Aaronson documented how the FBI's budget-increasing, power-enhancing strategy was to target "tens of thousands of law-abiding people, seeking to identify those disgruntled few who might participate in a plot given the means and the opportunity" by monitoring their social media postings, and "then, in case after case, the government provides the plot, the means, and the opportunity."
Former FBI agent Michael German, who worked undercover in domestic terrorism investigations before the War on Terror began, put it this way:
Prior to September 11, 2001, if an agent had suggested opening a terrorism case against someone who was not a member of a terrorist group, who had not attempted to acquire weapons, and who didn't have the means to obtain them, he would have been gently encouraged to look for a more serious threat. An agent who suggested giving such a person a stinger missile or a car full of military-grade plastic explosives would have been sent to counseling. Yet . . . such techniques are now becoming commonplace.
Impunity
The FBI claims it doesn't investigate Americans based on ideology alone. Director Christopher Wray seemed particularly eager to emphasize as much during testimony before the Senate Judiciary Committee.
Yet, there have been hundreds of cases since 9/11 that suggest otherwise.
One need look no further than the FBI's deployment of informants to investigate Muslims based solely on their religious affiliation, which has been documented nationwide for two decades. It's not only Muslims, however; it's anyone. In 2017, a leaked cache of documents — which included the FBI's governing rulebook, known as the DIOG, as well as classified policy guides for counterterrorism cases and handling confidential informants — provided a rare aperture into how and why the FBI has been able to use the thinnest of pretexts to investigate individuals.
It turns out that, though agents must obtain supervisory approval to enter a group or gathering using an undercover agent, and to obtain that approval, the FBI must have a "predicate," or a factual basis to suspect criminal activity, neither supervisory approval nor a predicate is required if the work is done by an informant. Think about that. This essentially creates a loophole the FBI uses to investigate Americans for virtually any reason. In addition to this informant technicality, the Bureau may authorize so-called "assessments," which allow agents to open an investigation of anyone without probable cause for national security purposes.3 Assessments are the closest thing to domestic spying that exists in America and generally not talked about by the Bureau.
"Everyone should know that the FBI claims the authority to use extremely intrusive methods to investigate people without any factual basis to suspect that they have engaged in actual wrongdoing," Hina Shamsi, director of the ACLU's National Security Project, told the Intercept. Those methods "can reveal intimate information about how people live their lives," she warned, adding, "This is an ineffective authority because it clogs up the system with baseless investigations, and it is a dangerous authority because it has been abused to spy on innocent people exercising their First Amendment rights to protest, worship, and engage in political advocacy."
The FBI manages to achieve a high rate of conviction partly because the accused often plead guilty after being offered leniency in exchange for information, or because they're counseled to do so in order to avoid almost certainly receiving a longer sentence if they opt to go to trial, but also because judges are all but forced to side with the prosecution. Why? Because the law of entrapment is so narrowly defined in favor of the FBI that a defendant faces insuperable odds of a favorable verdict.
Even when there's ample reason to believe that the FBI committed clear-cut constitutional violations, prosecutors are able to invoke what's known as the "state secrets privilege," a rule under which evidence must be excluded if its disclosure would pose a "reasonable danger" to national security. Over the years, this privilege has been transformed from a last-resort, selectively applied rule of evidence into a virtual grant of immunity for the government, shielding the FBI from revelations of illegal conduct.
The Point of the P.R.
There are several reasons why the FBI's often overtly unconstitutional conduct has been allowed to continue unabated.
As mentioned earlier, the period following 9/11 was chaotic, a time when national security imperatives routinely trumped concerns about government overreach. "Better safe than sorry" was the predominant mindset. As the War on Terror began to take shape and fear levels remained high, rhetoric in the name of fighting terrorism allowed the federal government to expand its power more than any other time in American history,4 with draconian detention and surveillance measures largely ignored, if not tacitly approved of by Congress.
Under the guise of engaging in counterterrorism, the FBI was able to build a network consisting of over ten times as many informants as there were during the infamous "Cointelpro" operations (1956-1971) led by director J. Edgar Hoover. More often than not, these informants are well-remunerated con men with criminal histories who the FBI cannot guarantee won't coerce targets into plots in order to secure their own paychecks. And the stakes are high: Informants stand to make as much as $100,000 over the course of a single investigation, not to mention considerable bonuses in the case of successful convictions.
Most informants were used during the War on Terror to infiltrate Muslim communities and create and facilitate phony terrorist plots so that the Bureau could then claim dubious victory after dubious victory. It has developed a reputation for publicizing, often with great fanfare, its foiling of complex, frightening plots and conspiracies thanks to its undercover work, diligently reminding the public of the ever-present threats they work to subvert.
The inflated scale of threats is intentional and serves several objectionable purposes. In addition to overwhelming the public and the courts, who might otherwise see the FBI's methods for what they really are (illegal entrapment), when these manufactured terrorist plots are hyped up, it increases the possible penalties for those charged because of "terrorism enhancement" sentencing provisions. And as mentioned previously, most of the accused end up pleading guilty due to cases being stacked against them, which begets the question of whether the pre-trial publicity stunts are used in avoidance of scrutiny altogether, both inside and outside of court.
Going After Trump Supporters
Just as the FBI did while entrapping Muslim Americans throughout the War on Terror, the Bureau now manufactures data to promote phony narratives about Trump-supporting "domestic terrorists" that supposedly pose a threat to homeland security.
According to a report by GOP members of the House Judiciary Committee, whistleblowers disclosed how the FBI is "misrepresenting the scale of domestic violent extremism nationwide by categorizing January 6th-related investigations as organic cases stemming from local field offices, instead of all related to one single incident."5
FBI Director Christopher Wray has been a key propagator of the absurd notion that January 6 was an act of domestic terrorism, and federal prosecutors have followed his lead, routinely comparing defendants to terrorists, which is how the government, under the auspices of the joke known as the January 6 committee, has justified its grossly unconstitutional indefinite pretrial detention for nonviolent offenders.
Per Stanford law professor Shirin Sinnar, "We treat terrorism in an exceptional way. The ordinary rule of law doesn't apply when it comes to terrorism — no ordinary oversight or democratic accountability." Note well that the government's approach to "counterterrorism" erodes constitutional protections for all Americans by broadening the scope of who is classified as a threat.
As investigative journalist Julie Kelly has detailed, during his Senate testimony in March 2021, Wray refused to answer directly whether he thought the Oath Keepers and Proud Boys, two groups present on January 6, were domestic terrorist organizations, instead insisting "individuals" associated with the groups are "domestic terrorists."6 But it's ridiculous to even suggest as much. Of the nearly two dozen members of both groups who faced charges tied to January 6, only one was accused of using a weapon—a riot shield that was used to break a window. Indeed, no one in either group carried a firearm into the building or on Capitol grounds. Some "armed insurrection."
Unsurprisingly, the FBI also had informants embedded in these groups. It was only shortly before the start of the seditious conspiracy trial against members of the Oath Keepers that prosecutors finally disclosed that at least five informants, including the organization's vice president, had been planted in the weeks and months before January 6. A few days later, the New York Times revealed that the FBI had as many as eight informants inside the Proud Boys on January 6—information that the DOJ fought tooth and nail from disclosing to the trial's defense team.
Keep in mind that only a couple months before January 6, the FBI was engineering the Whitmer fednapping hoax, which involved more than a dozen informants and undercover agents who had a hand in the plot from start to finish. That makes three simultaneous cases that the FBI was trying to weave together to paint a picture of dangerous domestic terrorists supposedly bent on committing violence on Donald Trump's behalf. That is not coincidental.
But unlike the Whitmer fednapping plot where the FBI arrested their targets before an attempted "kidnapping" could occur, the FBI chose not to act on any foreknowledge about possible violence on January 6 despite having informants in the two main "militia" groups charged with seditious conspiracy. The obvious question is—why?
If there really was a seditious conspiracy to thwart the peaceful transfer of power on January 6, it's simply impossible that the FBI, with over a dozen informants embedded in the Oath Keepers and Proud Boys, was ignorant of this, which suggests the Bureau's failure to act preemptively and call for heightened security wasn't an innocent mistake, but something more sinister.
It might be unsettling to entertain the possibility that they sat back and let something like the storming of the Capitol happen on purpose. But the FBI's history makes it plausible, if not probable.
1
According to a recent Newsweek piece, nearly two-thirds of the FBI's current investigations are focused on Trump supporters.
4
Q.v. — The creation of the Department of Homeland Security.
5
The number of FBI domestic violent extremism and domestic terrorism investigations has more than doubled since the spring of 2020—to approximately 2,700 investigations at the end of fiscal year 2022. The data show clearly that the main targets of the investigations and cases open were of Trump supporters.
6
Tellingly, Wray has refused to call Antifa, the leftist group that often led the way in burning American cities to the ground during the summer of 2020, a domestic terrorist organization. According to him, Antifa is just a "movement or an ideology."